Is your organization connected with public email networks?
Are you worried about Integrity and safety of your business data?
Is your internal or outsourced team having trouble while understanding and providing timely resolution for your current email collaboration suit?
Have you ever been experienced with email lost?
Are emails being delivered slowly?
You are completely frustrated with the poor network speed and lots of spam, virus and ransomware attacks?
In short, you are losing productivity and profitability. Hello2Hosting has taken a leap forward with world renowned and globally accepted and adapted "Business email Hosting".
Online business is all about being productive, responsive and updated, emails are the primary channel through which organization are being connected. Millions of emails flow every second to share vital for the organization daily operation need. In such environments, it becomes very challenging to operate and manage business email suite. It should be tailor-made, fast and furious according the industry and market.
We at Hello2Hosting delivers robust and scalable Business Email Hosting, which are designed according to the industry standard, once you adopt such highly resilient and scalable business email hosing from us, you can surely increase proficiency in system and make productive business.
Customized Active Sync z-push technology with Zimbra Open source
Mobile data synchronization is becoming increasingly important for many Business over the Air.
The most promising platforms that can do wireless synchronization are Active Sync that is used to communicate with any Exchange Server & BlackBerry Enterprise Server (BES). Both solutions require server-side software from the Hosting Provider or vendor, therefor Hello2Hosting has come up with most robust, resilient and stable solution in collaboration with Open source stack.
Our core focus is to give stable services for our valued customers so that they can key focus on their business without worrying about their email infra.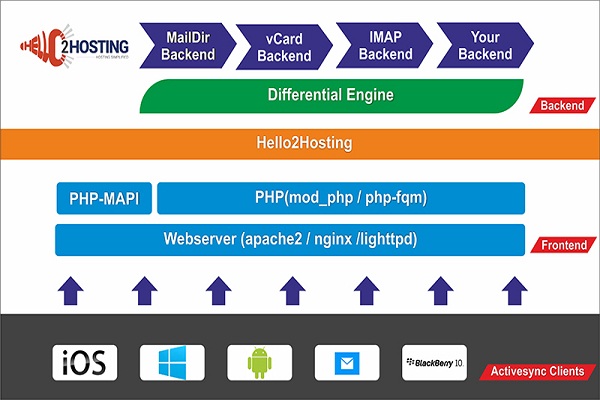 Premium Anti-spam at top of the Glance
Hello2Hosting anti spam software designed for managed service providers, web hosts, ISPs, universities and anyone who has to provide e-mail spam protection for multiple domains. Hello2Hostng-Domain-PRO enables a super system administrator to delegate system administration rights which in turn allows the designated system administrator to offer per-user or per-group anti spam filtering.
Hello2Hosting Domain-PRO Features:
Customizable and scalable spam and virus protection
Automatic updates in spam protection software
Inbound and outbound mail spam scanning
Per user Bayesian analysis including access to RPTN
Available as software or as an appliance
Built on top of Hello2Hosting-Domain-PRO is designed for complex environments where global spam protection policies must be balanced with an individual's ability to have the final decision over what is and is not spam. Hello2Hosing Antispam products offer the industry's most complete and flexible spam filters. They can be deployed in any enterprise e-mail environment.
Company: Hello2Hosting
Address: 264, Udyog Vihar Phase 1, Sector 20, Gurugram, Haryana 122022, India
Call: 1800 102 2530
E-mail: sales@hello2hosting.com
Website: www.hello2hosting.com