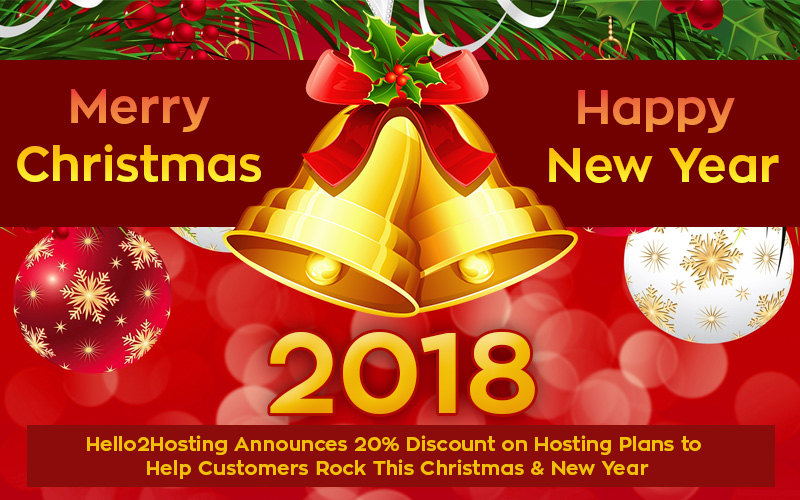 Hello2Hosting has been known as world class cloud hosting platform for any kind of business. As Christmas and New Year is around the corner, Hello2hosting came up with unbelievable offers on its services one cannot ignore. Hello2hosting provides N number of choices for customers who are looking for hosting server across the world, so this turns to be a WIN-WIN situation for customers.
On this auspicious occasion of Christmas and New Year, Hello2Hosting with the blessings of Santa offers its valuable customers 20% price off on its hosting service. We hope this Christmas to be as warm and blessed as Santa has planned for its clients.
Apply Coupon Code: 7M4AUVRYH1 Checkout!
Hello2Hosting not only serves regionally but also expanding its reach across the globe. Hello2hosting under the product of "Unbox Data Centers" offers faster web hosting, secured servers, easy setup, outstanding services, secure website transactions, and best business practices to its customers.
In the growing era of cloud technology, Hello2Hosting came up with outstanding hosting servers. Customers can reap the benefits from:
Advance Technology with pure 10G nexus connectivity
Incompatible infrastructure with IDS/IPS along with 7 layers of security
Mainly focused on security of server in order to protect websites from virus attacks, ransomware and other unwanted complexities.
Latest infrastructure has been used plus best real time disaster recovery services which enables its clients to run their businesses smoothly.
Guaranteed 99.995% Network Uptime
Guaranteed 99.995% Infrastructure Uptime
Tier 3+ Data Centers 
With an objective to promote digital world Mr. Vishal Yadav, Co-Founder of "Unbox Data Centers" launched an outstanding cloud hosting platform for small, medium and large business with various specifications such as flexibility to cover all business facets, ability to have a complete end-to-end hosting management, intelligent cloud support and many more. So, now you have great option to switch to Hello2Hosting and enjoy high speed hosting service.