Hello2Hosting, the leading hosting service provider, recently announced "use of high encrypted Intel Xeon v6" in its dedicated server hosting plans. The solution optimizes inter connectivity with main focus on speed without compromising data security. It is a high performance version of Intel desktop processors to be used in high-end workstations and servers.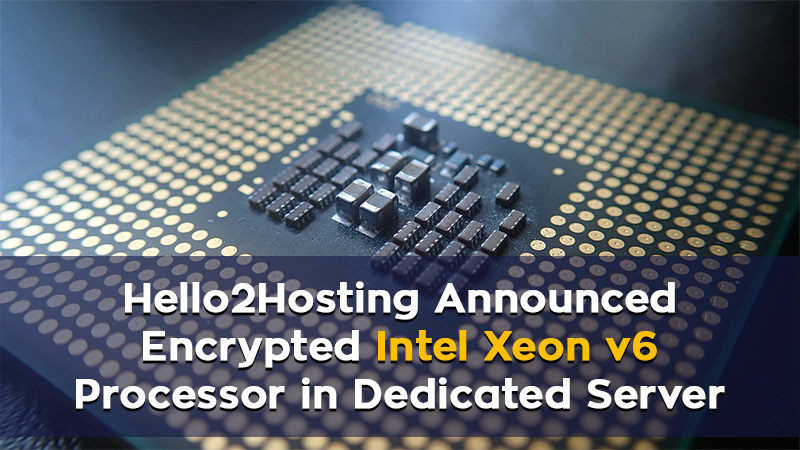 The requirement for greater computing performance is growing in all industries. To tackle with evolving usage models and rising demands, Intel Xeon v6 comes into picture. Intel Xeon v6 in dedicated server caters with increasing workloads and workflows of today's server and customers. It delivers acceleration, greater business intelligence and agility. Its features improve workload-optimized performance and throughput increases for advanced analytics and data compression.
"With increasing workloads and exploding data volume, every company wants to have high performance computing. Hello2Hosting offers Intel Xeon v6 processor in dedicated server plans which helps to speed up data compression and cryptography with advanced technology. This high-speed processor helps to reduce total system cost. Further, it also helps to decrease power consumption and improves transfer latency," said Vishal Yadav, CEO of Unbox Data Centers.
About Hello2Hosting:
Hello2Hosting is a leading data center and hosting service provider based in India. It is product of Unbox Data Centers Pvt. Ltd., certified ISO 20000-1:2011 and ANSI/ TIA942, ISO/IEC 27001-2013, ISO 27001:2005, ISO 9001:2008. It provides hosting services for dedicated servers, cloud solutions, email hosting, panel hosting and VPS hosting on Windows and Linux operating systems. Additionally, client can expect to have disaster recovery services, backup facility, CDN services, and more.
Company: Hello2Hosting
Address: 264, Udyog Vihar Phase 1, Sector 20, Gurugram, Haryana 122022, India
Call: 1800 102 2530
E-mail: sales@hello2hosting.com
Website: www.hello2hosting.com