Ecommerce industry is expanding at rapid speed and is attracting consumers from around the world. With increase in awareness about benefits of online shopping, there has been rise in investment of eCommerce business. If you are engaged in any facet of eCommerce sector, a website is main way to business. But launching eCommerce site, brings its own requirements and unique challenges. The informational site has easy content management and less hosting resources requirements as compared to eCommerce site which is more resource hungry.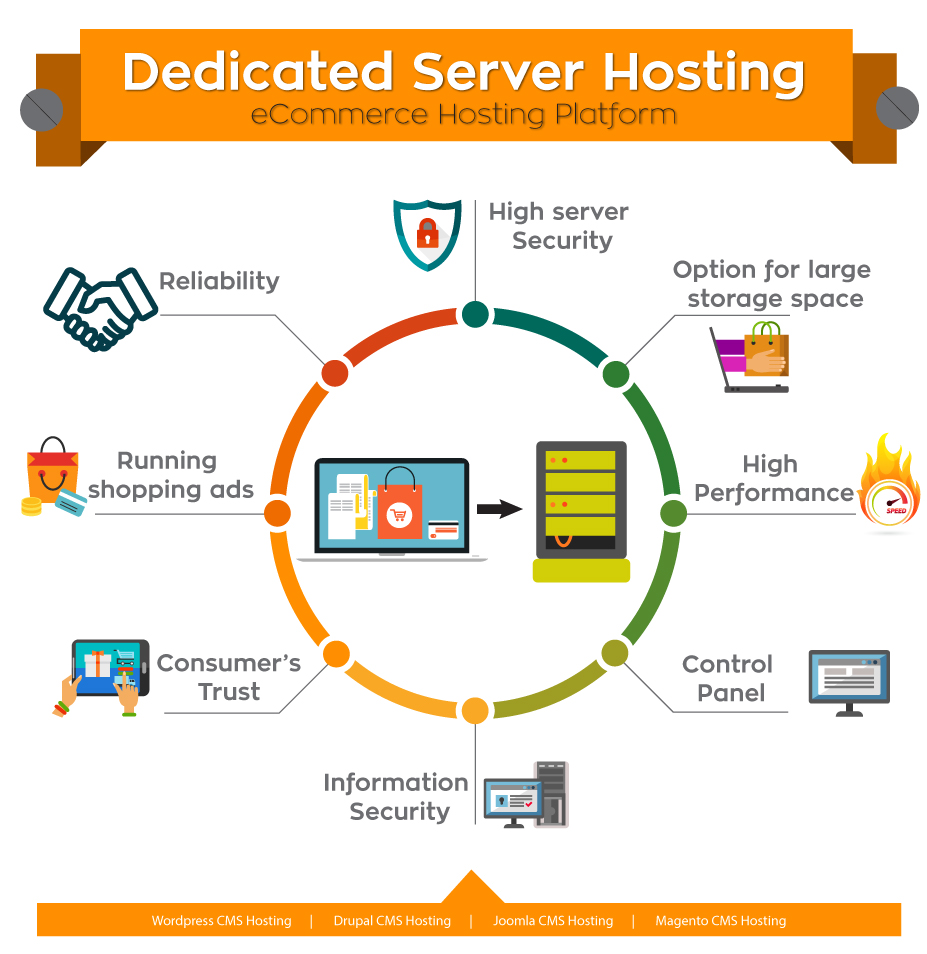 May be you have heard best things about Magento as eCommerce platform. WordPress is another option for you which come with fleet of plug-in for website. After choosing CMS, here come the million dollar questions: "Where to host this website?" and "How to protect website data?" It is safe to pay for best hosting service for your website. In starting period, business can have its processes on single computer system and as website traffic increase invest in dedicated server. In the world data security, SSL Certificate is used to protect user data.
What is dedicated Hosting server?
In Dedicated Hosting Server, client is assigned dedicated IP address/server and is not shared with anyone else. These types of servers are perfect for sites with high volume of eCommerce transactions. It is more flexible than shared hosting as customer will have full control over the server.
Why Dedicated Hosting server is best for eCommerce websites:
High server Security- Dedicated servers ensure high security for your website and give more control over your business. This type of managed server brings high level of performance because entire server is dedicated to one user only and is not shared with others. Additionally, the server helps to recover data and content during server crash or disaster.
Reliability- Dedicated Server makes your website a complete separate environment. The right configurations ensure maximum uptime and performance. This ensures increased profitability.
Option for large storage space- eCommerce sites need to store large amount of data and hundreds of images of products. There may be need to store customer information, order histories, inventory, shipping information and growing databases. This means you will have to store gigabytes of data and need ultimate storage option. This server provides huge amount of data transfer, strong CPU and RAM to keep business running.
High Performance- A stable network means best possible user experience to website visitors. Delay in image or page loading can spoil UX and can drive away visitors to competitors. Dedicated server can handle large volume of traffic without interruption of services. It provides smooth data flow directly and ensures quality experience that visitors expect.
Control Panel- With dedicated server hosting, you will be provided with additional opportunities for control. You will have great control to access day-to-day functions. You can change settings to optimize website performance, security or database usage. This will help you to gain right knowledge about user experience and will help to boost conversion of visitors.
Verify Website with SSL Certificate

SSL, expanded form Secure Sockets Layer, is a cryptography technique which helps to establish secure connection between client and server via symmetric key. It ensures that sensitive information is protected and keeps it safe from being stolen from preying eyes.
Read Also:What Makes WordPress The Ideal Choice for Your Website Needs?
Benefits of SSL Verified Website in Online Shopping
Information Security- The main reason to use Private SSL certificate is to keep private information safe by sharing them with encrypted connection. Visitors use usernames, passwords, addresses, credit card, etc. and this information collected can encounter identity theft if there is no encryption method used. Being online merchant, it will be your responsibility to maintain data confidentiality. With the help of Private SSL certificate, website data and visitor's information is encrypted and becomes unreadable.
Consumer's Trust- The security of Internet is main concern due to hacks happening every day. Therefore, interneters are quite careful to make purchases online. With Private SSL certificate, people will feel safe and trust website to buy things. This certificate acts like trust shield to attract people to your website.
3rd party payment gateway- If you are using 3rd party payment platforms like PayPal, then Private SSL Certificate act like trust magnet. Make sure that customer is able to see https in green address bar for the page where they are entering credit card information.
Running shopping ads- Running shopping ads on Google or Bing plays important role in generating revenue for eCommerce website. If you wish to run ads on Google, website checkout must be secured with this certificate.
In the nutshell, to expand online business, it is necessary to secure consumers and website with help of SSL certificate and dedicated server. As you may be stuck with questions like where to buy private SSL certificate and which company provide best dedicated hosting services? Here's answer: there are many good Private SSL certificate providers and for dedicated server, you can rely on Hello2Hosting.